Glass has the potential to be a valuable alternative to plastic in the restaurant market.
Because of the health crisis, many restaurants have had to reorganize to keep their business running. Whether it is for fast food or gastronomic restaurants, home delivery has allowed these establishments to satisfy their customers. According to Deloitte, the meal delivery market will grow by 10% per year to reach $25 billion in Europe by 2023. As a result of this increase in the use of UberEats or Deliveroo, our garbage cans are full of disposable packaging!  Regarding the catering business, let's remember that the well-known doggy bag, which will soon be mandatory in many countries around the world, will not help to reduce the amount of non-reusable packaging if nothing is done to avoid its use.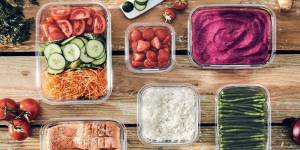 The result? For example, in Europe, 25.8 million tons of plastic waste is produced, including 60% from packaging. However, collective awareness has led to the banning of disposable plastic tableware in some parts of the world. 
Therefore, new opportunities are appearing: it seems that we are gradually entering a second life for the returnable container. For example, in some cities, UberEats France offers customers the possibility to receive their order in a returnable glass container, which will then be brought back to the restaurant to be washed and reused. Another observation, in 2021, McDonald's is also starting to implement reusable dishes in its restaurants.
You may wonder why we don't use other alternatives such as laminated cardboard? In reality, these recyclable materials do not always mean recycled, and are too often abandoned in landfills or burned. Today, Arc B2B offers solutions with glass that will eventually reduce the impact of single-use plastic in the food service industry and beyond.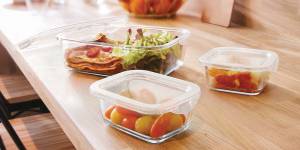 In fact, glass has several qualities to store food: it is a healthy, resistant and durable product. Unlike plastic, glass does not stain, does not transfer taste, does not deteriorate and can be used in different thermal environments (oven, microwave, freezer…). From an aesthetic point of view, glass perfectly conveys the image of a "homemade" and premium product. On top of that, it can be recycled endlessly. Glass has an advantage for the restaurant owner who reduces his waste, which represents an ecological and economic benefit, which is also the case for the customer when a deposit is set up.
To meet the needs of our customers and the end consumer in this changing market, we have innovated in this area by offering lightweight, strong and stackable containers, to limit the obstacles to the use of glass as packaging for delivery or doggy bags, which are often related to storage capacity in the kitchen, for example.
If you want to know more about the different advantages of glass in your business and the impact this material will have on your customers, contact us! 
Take care, we are looking forward to seeing you soon.
-The Arc B2B team