Arc Customised Glass presents today the 100% durable mug, designed to replace plastic in your company. Enjoy the article.
Totally shock-resistant thanks to the tempered and stackable glass, this mug is the result of work for sustainable development, a priority at Arc for many years. In addition to being environmentally friendly, it is dishwasher and microwave safe! A pure design is all this mug needs to accompany the coffee break at the office, replacing the traditional disposable cup.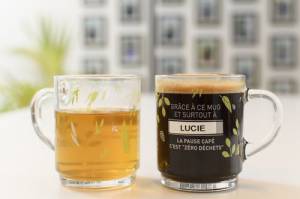 Customizable, it allows its user to show his or her commitment and encourages colleagues to take the same path towards a waste-free world.
Its use ensures a reduction in the use of plastic within the company. Less plastic especially means less use of natural resources: help your team to say goodbye to disposable mugs without compromising the coffee break. Today glass is becoming popular again thanks to its durability, making it the best alternative to plastic.
Personalization of the mug allows for personal use of it. It is also healthy and easy to clean.
Thanks to our expertise inglass manufacturing, we also produce preserving jars that facilitate bulk purchasing to reduce the production of avoidable waste.
Click here to learn more about the cup.
-The Arc Customised Glass Team.