For years, coffee has been a very popular drink in the world, and is even in second place after water. In fact, 94% of French people drink coffee and 2.5 billion cups of coffee are drunk everyday throughout the world. Whether it is drunk in the morning, at home or at the office, coffee is perceived by its drinkers as a source of energy and above all as a moment of relaxation and pleasure on a daily basis, very often accompanied by a small sweet cake. Whatever the case, coffee breaks are sacred, especially when shared with colleagues or friends.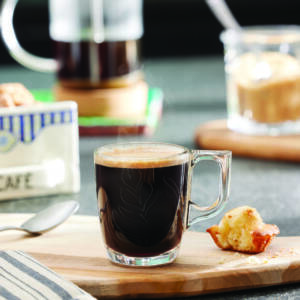 Although the majority of consumers are turning to capsules and pods to be put in the machine, ground coffee in a coffee machine is still very popular. However, the machines have the advantage of offering a multitude of possibilities; from espresso to long coffee, via cappuccino, latte macchiato, or even chocolate, they make it possible to take advantage of variations for those who wish to lighten the taste of coffee. There is also a real trend towards bean-to-cup machines, which allow consumers to consume freshly ground quality coffee. They also allow the consumer to make real savings on the cost of coffee, as the cost of pods is quite expensive for large consumers. 
Visual appearance also plays a very important role for consumers. Consumers will appreciate an enhanced coffee such as a cappuccino or latte macchiato better if it is served in a transparent mug that shows the different layers. When personalised with a brand's image, these mugs and cups allow the brand to remain constantly in the consumer's mind as they are used daily in the kitchen. 
Need to develop a project with us? Do not hesitate to contact us